Senokot® Digestive Support
Supplements
The Importance of Digestive Health
Your digestive health is important to more than just digestion and regularity, it can also have an effect on your overall health. Improving your digestive health can be as simple as making a few daily changes

Stay hydrated. Water can help balance the good bacteria in your gut. And when it comes to eating, slow down.

Eating slowly and properly chewing your meals helps with better digestion and can reduce stomach discomfort.

Taking Senokot® Kiwi BalanceTM is an easy way to help support your digestive health and regularity.
Kiwi Balance™ contains Kiwi Zyaction, a multi-action blend of kiwifruit pulp naturally containing enzyme and prebiotics. It works naturally with your body to help optimize digestive health.*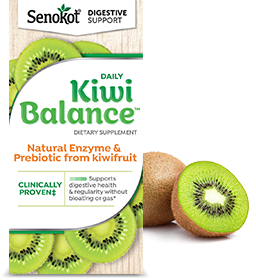 Kiwifruit offers natural benefits for digestive health
Kiwifruit may be small, but there's a natural abundance in New Zealand and locals have discovered a creative way to use them to support digestive health. Proprietary blending and freeze-drying the fruit pulp helps retain enzyme and prebiotic substances. Kiwi BalanceTM harnesses this power in freeze-dried kiwifruit pulp, extracted from New Zealand kiwifruit, to help improve your digestive health*.
Causes of Upset Stomach and Nausea
There are many causes of occasional upset stomach and nausea thankfully Ginger CareTM offers convenient relief. Travel is a common cause of upset stomach. Stressor eating too much or too quickly can also trigger an occasional upset stomach or nausea. The natural ginger root extract in Ginger CareTM can help ease your nausea or upset stomach.*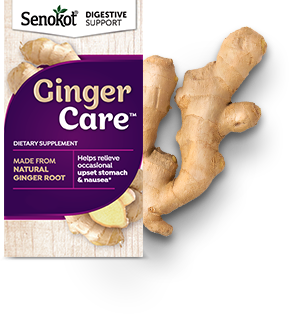 An Historically-Proven Ingredient
Ginger CareTM is made from natural ginger root extract, a traditional remedy. For centuries, people have been using ginger to help relieve nausea and other symptoms of an upset stomach. Ginger root works to calm and soothe your stomach and relieve the feeling of being nauseous.* And now, Ginger CareTM brings you the power of concentrated ginger root extract in the convenience of a tablet.
* These statements have not been evaluated by the Food and Drug Administration. These products are not intended to diagnose, treat, cure or prevent any disease.