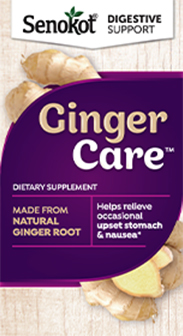 Senokot® Ginger CareTM
Digestive Support Supplement
Natural Ginger Root Extract for Soothing Relief
of Occasional Upset Stomach & Nausea*
Senokot® Ginger CareTM
Ginger CareTM dietary supplement, made from historically-proven ginger root extract, helps relieve occasional upset stomach and nausea.*
Suggested Use: Take 1-2 tablets with water twice daily, as needed.

Made From
Natural
Ginger Root
Extract

Helps Relieve
Occasional
Nausea*

Helps Relieve Occasional
Upset
Stomach*
Additional Information
If pregnant, nursing or taking any medications, consult a healthcare professional before use. Do not take this product if you are allergic to any of the ingredients. Keep out of reach of children. In case of accidental overdose, seek professional assistance or contact Poison Control Center immediately.
*This statement has not been evaluated by the Food and Drug Administration.
This product is not intended to diagnose, treat, cure or prevent any disease.