Laxatives
Dependable, overnight relief from occasional constipation.
Learn more about the Senokot® money back Satisfaction Guarantee
Use as directed.
About Constipation
If you have questions about constipation, you're not alone. Constipation affects an estimated 63 million people in North America, making constipation one of the most common gastrointestinal complaints.1

Constipation can be caused by a variety of factors including travel, changes in diet, or fluid intake. Disease, disability, hospital stays, and medicine – including prescription and over-the-counter medications – can all cause constipation as well.2,3

In general, we say a person is constipated when he or she is experiencing discomfort as a result of infrequent, irregular, or difficult bowel movements.

In terms of frequency, what constitutes normal differs greatly from person to person; it may mean as many as 3 bowel movements a day or as few as 3 or 4 bowel movements a week. Healthcare providers often rely on a person's report of the uncomfortable effects of constipation — such as bloating, excessive gas, straining and even pain due to hard, dry stools — as the best indicator that he or she is really experiencing constipation.4
How do you know when you are constipated? If you are experiencing one or more of the following signs, you may be constipated. Always speak to your doctor if your symptoms last over two weeks.
Less frequent bowel movements
Hard, dry stools that are difficult and/or painful to pass
Excessive gas or abdominal bloating
The sensation of a full rectum, even after you have had a bowel movement
Prevention2
By incorporating healthy habits into your daily routine, you may help prevent occasional constipation.

Eat More Fiber
Found in many fruits, vegetables, and whole grain breads and cereals, fiber helps your body develop soft, bulky stools. In addition to adding healthy fiber to your diet, try to avoid over-processed foods with little fiber, such as chips, pizza, ice cream, frozen dinners, and instant potatoes.

Drink Adequate Fluids
Keeping your stools soft and easy to pass requires plenty of fluids. Concentrate on drinking unsweetened fruit juices, herbal teas, and just plain water, as caffeine- and alcohol-containing beverages tend to dry out your system.

Get Plenty of Exercise
Exercising every day may help prevent and relieve constipation. Check with your doctor before starting any new exercise regimen.

Don't Ignore the Urge to Have a Bowel Movement
People with busy schedules, those who don't want to interrupt their work, and folks who don't like to use public facilities are just a few examples of those who sometimes don't stop and take the time to have a bowel movement. Repeatedly ignoring the urge to have a bowel movement, or just delaying a stop at the bathroom, can actually make you lose the ability to feel that urge which in turn can lead to constipation. So, when the urge comes, pay attention.

Ask Your Doctor or Pharmacist If Medications Are Causing Your Constipation
There are many over-the-counter and prescription medications known to be associated with constipation.
Relief
Senokot® laxatives provide gentle, overnight relief of occasional constipation. With a variety of Senokot® products to choose from, visit our product pages to understand which product is best for your needs.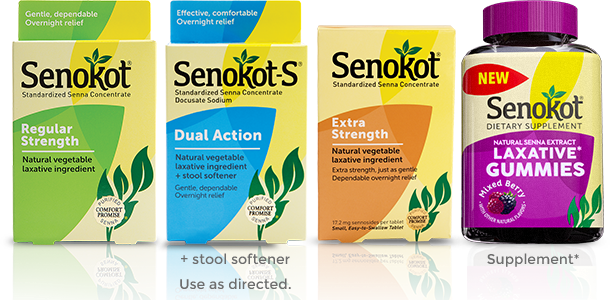 * These statements have not been evaluated by the Food and Drug Administration. These products are not intended to diagnose, treat, cure or prevent any disease.