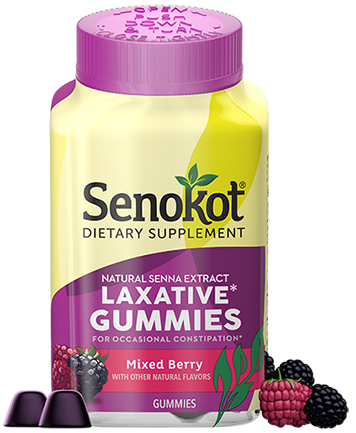 Senokot® Dietary Supplement Laxative* Gummies
THE ONLY GUMMY LAXATIVE for gentle, overnight relief from occasional constipation.†* Made from a natural senna plant, Senokot® Dietary Supplement Laxative* Gummies have a mixed berry flavor that tastes great.
Available in 60 count


Gentle,
Overnight
Relief†*

Easy
and
Great-Tasting

Made from a
Natural
Senna Plant

Mixed Berry
Flavor
with other natural flavors
*This statement has not been evaluated by the Food and Drug Administration.
This product is not intended to diagnose, treat, cure or prevent any disease.
Suggested Use: Ages 12 and up, 4 gummies up to 2 times daily.
Children 6-11, under adult supervision, 2 gummies up to 2 times daily.
Additional Information
If pregnant, nursing or taking any medications, consult a healthcare professional before use. Do not take this product if you are allergic to any of the ingredients. Keep out of reach of children. In case of accidental overdose, seek professional assistance or contact a Poison Control Center immediately.
Do not exceed the recommended amount or use this supplement for longer than 1 week unless directed by a doctor.
Read the full product label before using.